How amazing is our hot tub? Located in the fully enclosed rear garden underneath the wooden gazebo, our seven seater hot tub is a great addition to the lodge.
Whether you are enjoying a family holiday, or a romantic break away, all of our guests love the hot tub.
As the daylight fades, you can switch on the gazebo lights, which only add to the experience.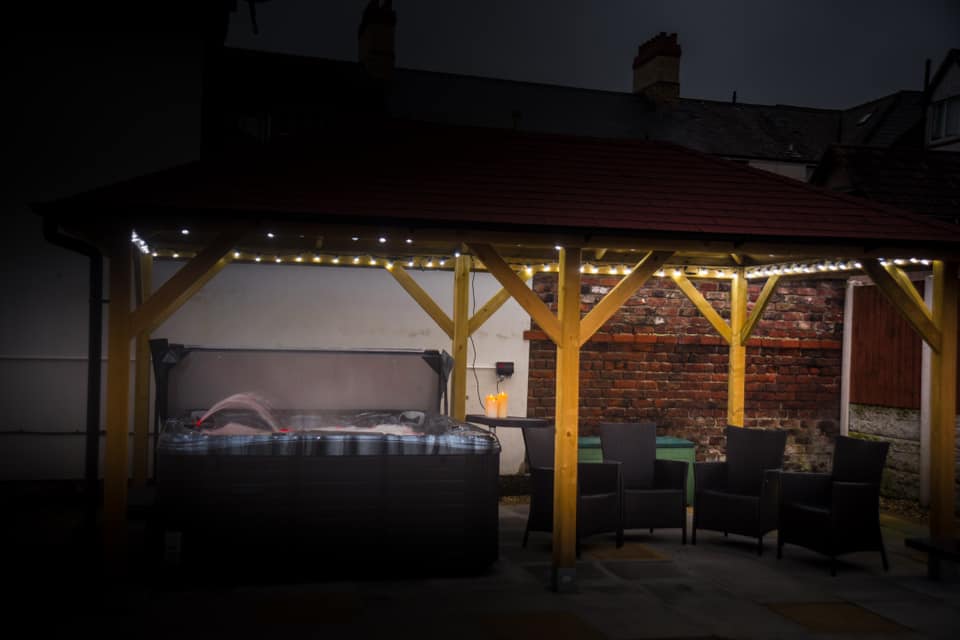 Please note that we use chemicals to maintain the hot tub and you must shower before and after using the hot tub. This prevents contamination of the water and reduces health risks. Showering after also removes any chemicals from your skin so will reduce possible reactions to the chemicals.
Pregnant women, people with diabetes, high blood pressure, heart disease or any other cardiovascular conditions should consult their doctors before using the hot tub.
You must not use the hot tub if you have any open sores or infections.
We ask that you take extra care when getting in or out of the hot tub as the area will be wet.
The temperature is set at 37 degrees, please do not alter this.
Do not attempt to unplug the hot tub or touch any electrical sockets with wet hands.
Children must be supervised at all times as the heat can cause drowsiness and this makes the danger of drowning a possibility. Infants and toddlers are not advised to use the hot tub. Children under 12 should only stay in the hot tub for 20 minutes at a time. Anyone under 16 must be accompanied by an adult while using the hot tub.
The water in the hot tub should be checked daily and the details recorded in the red book kept in the entrance hall.
If you have any concerns regarding the hot tub please contact the owner who will come to the property and fix any problems.